FABRIC
We classifly our fabric into 3 main categories: Knitting, Warp Knitting and Woven with Dying, Brushing, Shearing, Emerizing and Finishing.
Our Range of Fabrics include:
Knitting:     Click For Sample Fabric

· Jacquard Fabric and Computerized Jacquard (Polyester,Polyester Blends and Microfiber)
· C.V.C Velour (Plain,Drop Needle,Jacquard)
· Polyester Velour (Plain,Crushed,Jacquard)
· Terry(T/R,CVC,Polyester)
· Terry Jacquard (CVC,Polyester)
· French Tery (T/C,Polyester)
· Single Jersey & Interlock (Polyester,Cotton,T/C,CVC,Lycra)
· Pique(Cotton,T/C)
· Polar Fleece(T/R,T/C,Spun polyester,Polyester)
· Ribbed Fabric (Cotton,T/C,CVC)
· Yarn-dyed(Polyester,Cotton,T/C)

Warp Knit:    Click For Sample Fabric

· Tricot (Durasheen, Dazzle)
· Tricot Brushed
· Micro Polyester Fabric
· Brushed Mesh
· Polyester & Nylon Spundex Fabric
· Designed Mesh
· Micro Polyester Mesh
· Tricot & Mesh in Plain & Stripe
· Diamond Check
· Velour Polyester Fabric
· Atlas Stich Fabric
· Novelty Warp Knit
· Suede Micro Polyester Fabric
· Mesh
· Lock Knit
· Fancy Mesh

Weaving:    Click For Sample Fabric

Micro Fiber (Peach skin Finished), Polyester Woven with Spandex, curtain,


General: Popin, Twill Gabardine, Amunzen, Satin, Oxford, Suiting Crepe, etc.
TEXTURE YARN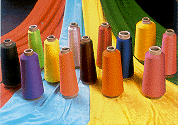 We offer the wide variaty ranges of the vertical integrated Polyester and Nylon texture yarn.
| | |
| --- | --- |
| Polyester Texture Raw White & Dyed Yarn | 75D, 100D, 150D and 300D Available in Normal, Micro, Twist and Intermingle. |
| Nylon Texture Raw White & Dyed Yarn | 70D/1, 70D/2, 100D/1, 100D/2, 100D/3, 100D/4 |
| Polyester Filament Dyed Yarn | 75D, 100D, 150D and 300D Available in Bright, Super Bright and Twist. |
| Cationic Dyeable (CD) Polyester Yarn with Intermingle | 75D/36F, 150D/48F |